Celebrate Florida Keys Marine Conservation During Key Largo's Annual REEF Fest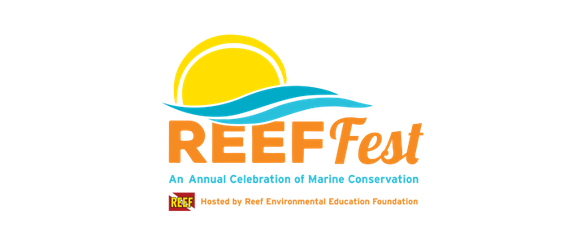 ---
KEY LARGO, Florida Keys — Ocean lovers who enjoy diving, snorkeling and kayaking are invited to get out on the water to explore and learn more about Florida Keys coral reefs during the annual REEF Fest scheduled Thursday through Sunday, Oct. 17-20, in Key Largo.
Hosted by the Key Largo–based nonprofit Reef Environmental Education Foundation, REEF Fest is designed to celebrate the importance of marine conservation, positive impacts of citizen science and education initiatives in the Florida Keys and around the world.
The four-day festival features morning coral reef dives and snorkeling excursions with REEF fish surveyors to share helpful fish species knowledge, and a guided kayak tour to search for wading birds and nearshore marine life with Keys operators.
Afternoon ocean-themed education sessions and evening social events feature food, drinks and fun with friends old and new. All events are open to the public. Seminars are held at the Murray Nelson Government Center, mile marker 102 in Key Largo. Pre-registration for seminars is recommended.
REEF Fest events kick off Thursday, Oct. 17, with an afternoon marine conservation program about fish identification and lionfish collection. The program is set for 2-5 p.m. at REEF headquarters, mile marker 98.3 in the Florida Keys Overseas Highway median.
Thursday evening at the Murray Nelson Government and Cultural Center attendees are to be welcomed at a picnic followed by an introduction and opening seminar that spotlights sea turtle conservation.
Friday, Oct. 18, three seminars are planned, including the introduction of a much-anticipated second edition of "Reef Fish Behavior – Florida, Caribbean, Bahamas," a popular book series developed by REEF co-founders and world-renowned underwater photographers Ned and Anna DeLoach. The couple is to share tales of their 20-year quest to better understand the natural history of reef fish inhabiting the waters of the Caribbean.
Friday evening, REEF is to host an open house from 6:30 p.m. to 9 p.m. with complimentary appetizers, craft beer and wine. Attendees can tour the historic headquarters building and Interpretive Center, walk the Native Plants Trail and mingle with fellow conservationists.
At Saturday's "For the Love of the Sea" open-air banquet, festivalgoers can connect with friends over dinner, drinks and a beautiful sunset over the waters of Florida Bay. Held at a waterfront venue on Key Largo's Blackwater Sound from 6:30 to 10 p.m., the limited-attendance event is to feature hors d'oeuvres, choice of entree, full-service bar, music and a large silent auction. Tickets are $70 per person.
A farewell brunch is planned Sunday from 10 a.m. to noon at REEF headquarters.
Event information: REEF.org/REEFfest or 305-852-0030
Key Largo visitor information: fla-keys.com/keylargo or 800-822-1088
Social: Facebook • Twitter • Instagram • Youtube • Keys Voices Blog
###