More Resorts in the Maldives Commit to Seagrass Protection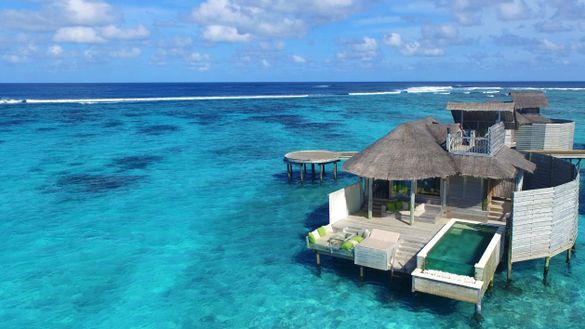 ---
The #ProtectMaldivesSeagrass campaign, headed by the Blue Marine Foundation and the Maldives Underwater Initiative (MUI) at Six Senses Laamu, has so far convinced more than 25 percent of resorts in the Maldives to protect their seagrass meadows.
Charles Clover, executive director of the Blue Marine Foundation, said, "Many resorts have joined the campaign and are now protecting this critical habitat; however, some resorts are still continuing to remove their seagrass. Support from the government, resorts, organizations and tourists is evidence that the practice of seagrass removal is finally ready to be put to an end."
The country's Ministry of Tourism has also officially endorsed the campaign to stop the removal of seagrass beds. Seagrass is commonly removed in the Maldives when it is found near resort islands because operators believe it spoils the clear, picturesque lagoons that tourists expect on holiday.
More than 30 resorts joined the campaign and collectively pledged to protect more than 8.9 million square feet (830,000 square meters) of seagrass around resort islands across the country.
The website www.protectmaldivesseagrass.com received more than 22,000 visits in a four-month period, with the #ProtectMaldivesSeagrass hashtag mentioned over 300 times each day at the height of the campaign. Over 1,600 people from both the local and international community have registered their support to protect seagrass in the Maldives.
Seagrass is vital to the low-lying island nation of the Maldives; it prevents beach erosion, fights climate change by absorbing carbon dioxide, provides food for sea turtles, supports fisheries and houses juvenile coral reef fish.
Charles Clover continued, "Seagrass needs to be protected if the Maldives' marine environment is to have the best chance of withstanding the environmental challenges expected over the next century."
Six Senses Laamu, the resort that inspired the campaign, has been protecting its seagrass since 2017 and has successfully shown that seagrass and tourism can coexist. The resort was used as a case study and was featured in a guide that demonstrated to resort general managers how seagrass can be an asset for positive guest experiences, encouraging them to protect at least 80 percent of their resort's seagrass meadows.
Marteyne van Well, general manager of Six Senses Laamu, said, "It's inspiring to see so many resorts come together and advocate for seagrass. With the number of new resorts on the rise, it's vital that this expansion is done sustainably to protect our unique marine environment, which people all over the world come to visit."
Find out which resorts support at www.protectmaldivesseagrass.com.
538,000 square feet (50,000 square meters) of seagrass meadows surround Six Senses Laamu, giving guests an excellent chance to see grazing green sea turtles or cruising stingrays, just a few fin kicks from their villa.
Click here to download this image in high resolution
Seagrass meadows in the Maldives support more than 10 species of rays, sharks and turtles.
Click here to download this image in high resolution

About Six Senses Laamu
Six Senses Laamu is the only resort in the Laamu Atoll, deep in the Indian Ocean, surrounded by a beautiful coral house reef. Most of the villas and facilities are built overwater, however beach villas and on-land dining is an option. All villas offer a sense of privacy and seclusion, with an amazing view to the Ocean and Maldivian nature.
Six Senses Laamu offers a wide range of dining options, with cuisines from around the world, an ice cream parlor, an overwater wine cellar and a signature Chill bar. Many activities, excursions and options are available for everyone to enjoy, both over water and underwater, in addition to the Six Senses Spa.
About Six Senses Hotels Resorts Spas
Six Senses Hotels Resorts Spas is one of the world's leading operators of luxury hotels, resorts and spas, managing 18 hotels and resorts across 14 countries, plus 37 spas under the brand names Six Senses, Evason, Six Senses Spas and Raison d'Etre. There are a further 17 hotels and resorts signed into its development pipeline. In February 2019, Six Senses became part of the IHG® (InterContinental Hotels Group) family of hotel brands.
Six Senses properties share a leadership commitment to community, sustainability, wellness and design, infused with a touch of quirkiness. Whether an exquisite island resort, mountain retreat or urban hotel, the enduring purpose is to help people reconnect with themselves, others and the world around them.
Six Senses Spas offers a wide range of holistic wellness, rejuvenation and beauty treatments administered under the guidance of expert therapists in all resorts as well as at 16 additional standalone spas. The high-tech and high-touch approach guides guests on their personal path to well-being, taking them as deep as they want to go.
Six Senses Residences provides the best life has to offer. From beautifully-appointed villas on the beach, rustic chalets in the mountains and spacious urban hideaways, Six Senses features a variety of residential choices in stand-alone buildings or attached to a resort or hotel. No matter the location, the promise remains the same and the commitment to create a community where every day revolves around learning and growing, great food and drink, innovative wellness programming, sustainable living – all mixed in with a lot fun.
Evason follows the Six Senses philosophy of uncompromised responsibility to sustainability and the community. Its two unique resorts provide a strong value focus, while offering a vast array of personal guest experiences that the whole family will love.