North Dakota Lake Levels Ice on the Rise

There's little certainty, save for the inevitable ice-up of your favorite lake, when it comes to ice fishing in North Dakota.
Last winter's ice fishing season is a good example. Greg Power, Game and Fish Department fisheries chief, called it a tale of two seasons.
"It started well as we had pretty decent drive-on ice at the holidays, which is a big deal because it gets people out and about," he said. "But that early participation ended pretty much statewide around January 10. Access went from good to lousy. And even if you could make it on your favorite lake, you needed an ice house to stay out of the weather."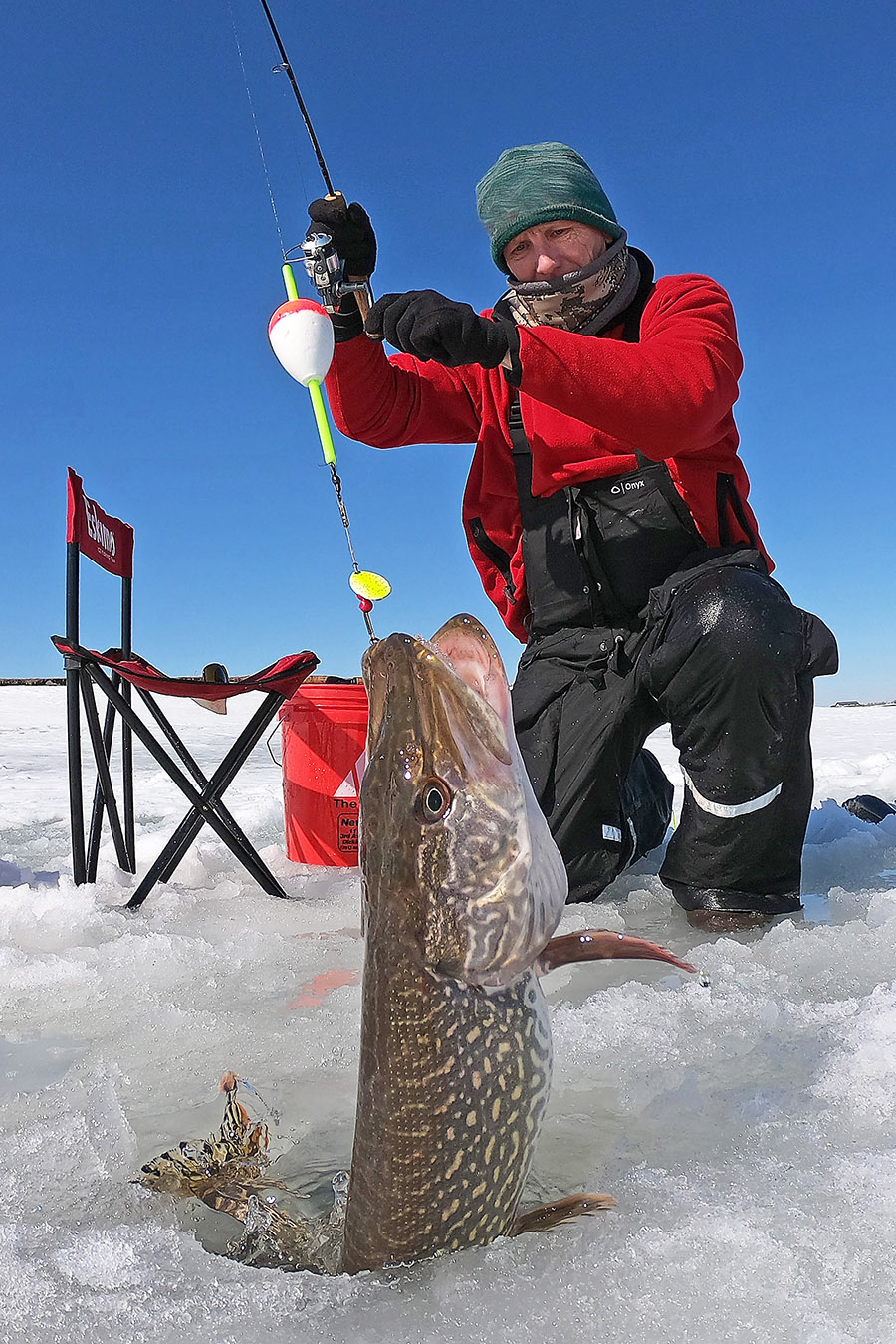 Fisheries biologists will tell you that with a little investigating, there remains some solid northern pike fishing across the landscape.
While it's impossible to predict the influence weather will have on the upcoming ice fishing season, Game and Fish Department district fisheries supervisors have provided a list – an abbreviated list, considering there are more than 400 managed fishing waters on the landscape – of lakes expected to offer good fishing opportunities in the coming months if Mother Nature cooperates.
Power said ice anglers shouldn't expect the perch fishing to be like it was, say, a decade ago. Yet, with a little investigating, there remains some solid northern pike fishing across the landscape.
"There is always Oahe, Devils Lake and Sakakawea, but the new kids on the block are nearly 60 newer walleye lakes that provide fishing opportunities on approximately 63,000 acres of newer water," he said. "A lot of those lakes are primarily in the central part of North Dakota, and many have very healthy walleye populations."
Last winter, tough conditions and declining lake levels, led to winterkill on 20 or so marginal waters. If that declining lake level trend would have continued, Power said 30 or more lakes would have experienced similar fallouts by next spring.
"If you compare today to last year at this time, the difference is night and day," Power said. "In many of our newer lakes we lost 1-3 feet of water per year for the past three or four years. So, some of the lakes were down 6-8 feet from their highs."
But things started to change starting in January 2019 when the snows came, providing decent runoff in spring.
"A lot of those lakes got a decent drink, then we had an exceptionally wet summer, a record-wet September in many of the counties, and maybe the wettest fall on record before it's all said and done. That translates to most our lakes being at, or very near, their all-time highs, which is incredible compared to a year ago."
The short-term outlook, thanks to an abundance of precipitation, is that far fewer waters will likely be lost to winterkill this winter compared to last.
Rising lake levels will also increase productivity and provide spawning habitat in recently flooded vegetation. These benefits aren't short-lived and will benefit waters years down the road.
"Fish need water, so all species will benefit, but the fish that will certainly profit from this flooded vegetation are pike and perch," Power said. "Looking in my crystal ball, I'm guessing we won't need to stock a whole lot of pike next year. The next couple of years, we should have a lot fish, and given the growth rates we're seeing in these prairie lakes, that means even more fishing opportunities in just a couple years down the road."
Recounting the Darkhouse Spearfishing Season
Of the roughly 4,300 people who registered with the North Dakota Game and Fish Department to darkhouse spearfish last winter, more than 3,100 participated in what amounted to an abbreviated season, harvesting nearly 18,000 pike.
Greg Power, Department fisheries chief, said weather and access for the first half of the 2018-19 darkhouse season were favorable for spearing, but by mid-January extreme cold and above normal snowfall greatly reduced participation and effort.
The first darkhouse spearfishing season in North Dakota was held the winter 2001-02. Participation (3,717 participants) and number of pike harvested (28,138 pike) were highest in winter 2017-18.
According to a Game and Fish Department survey, respondents indicated spearing on 81 waters in the state last winter, down from 104 waters in 2017-18. Power said for the third year in a row, Devils Lake was the top water in terms of pike harvested in 2018-19.
In 2012-13, most waters in the state for the first time were opened to darkhouse spearfishing. North Dakota's darkhouse season opens whenever ice-up occurs and all individuals who participate must register with the North Dakota Game and Fish Department prior to participating.
Free Ice Fishing
North Dakota's free ice fishing weekend is December 28-29.
Resident anglers may fish that weekend without a license. All other ice fishing regulations apply.
Those interested in darkhouse spearfishing that weekend must register with the North Dakota Game and Fish Department prior to participating. Registration is available on the Department's website, gf.nd.gov, or through any Game and Fish office. Legal fish are northern pike and nongame species.

An angler, with the help of his watchful bird dog, drills a hole in one of the hundreds of lakes scattered across North Dakota's landscape.