DEFEND OUR MARINE SPECIES
Endangered Nassau Grouper
Dear Kriss,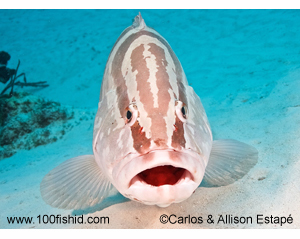 Everyday at REEF, we inspire people to make a difference for our oceans. Our programs aim to spark an interest in marine resources so individuals become directly involved in their study and protection. Now, more than ever, we need your help to ensure broad support of policies and regulations that defend species and ocean ecosystems.
You can give securely online at www.REEF.org/donate, mail your donation to REEF at PO Box 370246, Key Largo, FL 33037, or call us at 305-852-0030.
During our Winter Fundraising Campaign, I am honored to share stories of how REEF inspires and makes a difference. Last week, we shared some ways REEF inspires the next generation through our education and outreach programs. Today, I am proud to tell you one of our best examples of how science and education can result in conservation success.
REEF's Grouper Moon Project coordinates research on Nassau Grouper, an icon of healthy coral reefs. These amazing fish are able to change their color pattern to blend in with the surrounding environment or as a means of communicating with other fish. These beautiful, intelligent fish can also be friendly, and interactions with Nassau Grouper are often likened to that of a curious cat or dog. REEF scientific divers have told stories of how sociable the grouper are underwater and how curious they are about all our equipment.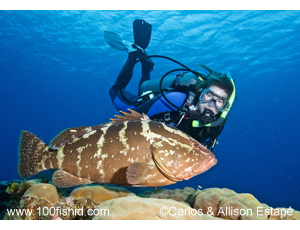 But what makes these fish so fantastic is also what threatens their existence. The grouper's method of reproducing involves the population coming together under a full moon to "aggregate" in a group. Because the timing and location of these spawning aggregations are so predictable, they can often be an easy target for overfishing. Unfortunately, most of the Nassau Grouper spawning aggregations have been fished to exhaustion and the species has been listed as endangered. One bright spot is the spawning aggregation on Little Cayman in the Cayman Islands.
With the help of REEF supporters and donors, over the last decade our Grouper Moon team has conducted ground-breaking research on the grouper spawning aggregations in the Cayman Islands, and based on our findings, in August of 2016 the local government passed comprehensive legislation aimed at recovering Nassau Grouper. The new regulations include:
• A ban on take, possession, or sale of Nassau Grouper from December through April (during the spawning aggregation months);
• Size and catch limits during open season (May through November); and
• A prohibition on using spear guns at any time to catch Nassau Grouper
This was a huge victory, and it could not have been possible without donations from individuals like you. But, there is still important work to be done.
Please give a gift today so we can increase our understanding of marine ecosystems through science and education. Thank you again for your support!
Best Fishes,
Paul Humann, REEF Co-Founder